Note: Sign-ups for this game are always open because there will always be another game. If you're interested in playing go sign-up here! It actually helps to have more players because then we can play bigger games!

The clan's hunting has been less successful the normal recently, and the Thickhead clan will be arriving soon for their monthly "protection" payment/tribute. Your job is to catch some food for your clan, at least enough that nothing untoward happens when the Thickhead's visit. It would also be worth finding out what is causing the food shortage and eliminate the problem.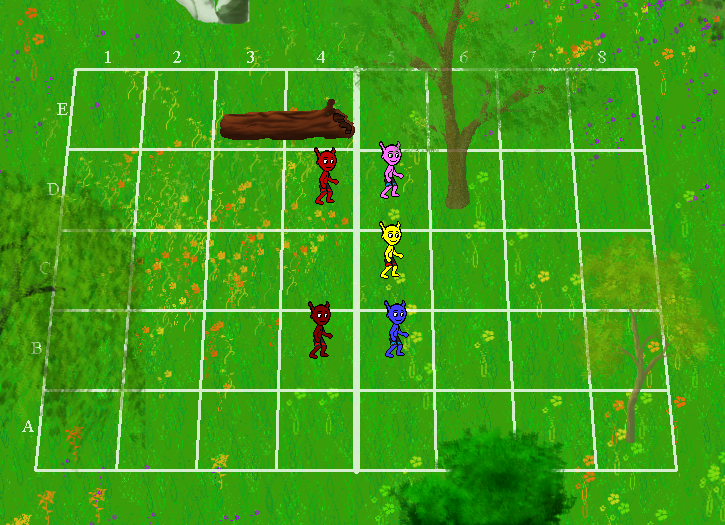 There are rabbits throughout this section of the forest. Rabbits like flower covered meadows. They are normally so abundant you can scarcely go 10 feet without stumbling on them. For whatever reason that is no longer the case. Rabbit's are fast, and being small are hard to hit. They are timid creatures and will run directly away from anything that gets too close. However, their eyesight isn't great (can't see more than 2 squares) and they aren't too bright. Clan hunters will often chase rabbits towards other hunters. Waiting behind cover to pounce on them negates their evasiveness. Additionally they tire quickly and take time to recover. They are small enough that a goblin can carry two of them, although they will be encumbered.

At one time your clan slaughtered most of the local fox population. Foxes are typically quick and clever, but very rarely attack humanoids. However, they are fiercely territorial and will attack if they feel threatened. They have very sharp teeth and often move in small packs. They often hide in burrows under boulders and in tree trunks.


Mission details:
Primary objective (individual): Survive without major injury. (1xp)
Primary objective (group): Return with enough meat for the clan and as tribute. (4xp each)
Secondary objective: Find out what is causing the rabbit population to shrink so dramatically, and rectify the problem. (Wreck the ecosystem so that rabbits reproduce like... well rabbits!) (3 xp each)
Bonus objective(s): ?
Players:
Has No Name
Level 3 Defender, 5/5 HP, 1 ATK, 3 DEF: Improved Guarding 1,
Banner Guardian 1
+1 DEF
Dreamer
Level 2 Defender, 5/5 HP, 1 ATK, 3 DEF:
Tackle Stamina 1
+1 DEF
Righteous Charger
Level 3 Attacker, 5/5 HP, 3 ATK, 1 DEF:
Sprint Endurance 1
+1 ATK, Improved Tackle 1
Mines Flags
Level 2 Strategist, 6/6 HP, 1 ATK, 1 DEF: Cheer effectiveness 1
Pats Dragons
Level 3 Strategist, 6/6 HP, 1 ATK, 1 DEF: Cheer Effectiveness 1, Cheer Range 1
I'm shooting for 5-6 updates a week but will give you guys an extra day if you need more time. Just post your moves directly in this thread. We'll shoot for an 8PM deadline (EST) everyday. Let me know if you have any questions, and have fun exploring this little forest.