Turn 6, part 1. Score:

3

-

4
Things start out rather bland -
Carves a Pumpkin
guarding, though
Boar slayer
seems to prefer taking the scenic route.
Hides cloth
meanwhile, finds himself entering a situation eerily similar to last turn- Even though the missed tackle does get him an advancement exp.
Turn 6, part 2. Score:

3

-

6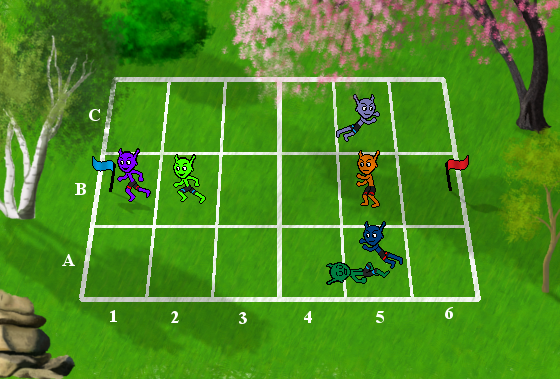 But it's not before long that
Tumbles Down a Hill
tackles straight back into him!
Red point! And
Tumbles Down a Hill
gets two exp for sending
Hides cloth
back home.
Yells at Others
meanwhile advances into the flag square, getting him a final advancement exp as well as another point for his team.
Blue team:
Nerre
1 exp
Hides cloth
Must warp back as first action next turn. 6 exp
Boar slayer
5% missed tackle penalty, cannot sprint for 1 turn. 3 exp
Red team:
Tumbles Down a Hill
6 exp
Yells at Others
4 exp
Carves a Pumpkin
10% guard penalty until he leaves the square. 2 exp[/quote]