Ok everyone,
I've been enjoying the fallout game with badge and spider and it has given me a bit of inspiration to run a small voting type game as well based on the
fallout penny arcade strip
. You will be playing this character from vault 77- AKA- Puppet man.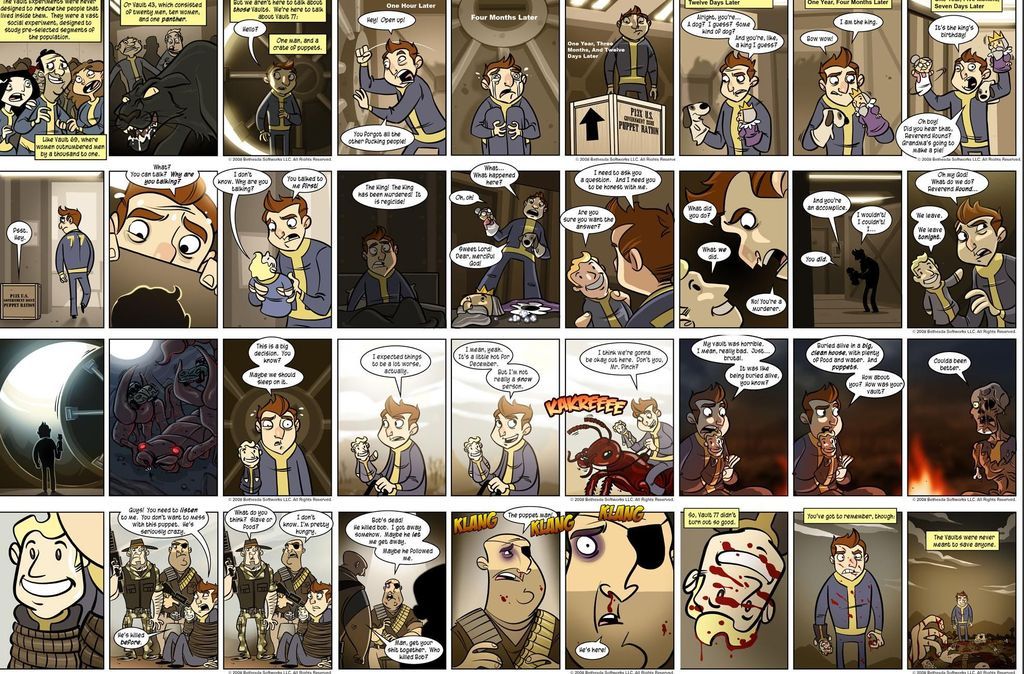 I hope to run a story with voting options that already have predetermined outcome. Each option will be one of five outcomes I've already thought out.
One will be bad-auto fail, one good-auto succeed, one average-no real plot progression or go to second highest vote and two will require a certain level of a skill level to pass, you won't know these until the next vote but it'll give you an idea of my thoughts.
Example ÔÇô A super mutant wearing a baseball cap and holding a large steel bat appears in the distance while you are traversing the wilderness - What do you do?
Your options:
1. Try to sneak away before it sees you.
2. Approach it and engage it in friendly conversation.
3. Attack it with your pistol
4. Stay perfectly still
5. Let the puppet decide what to do.
----------------------------------------------------
What I have planned-
1. Agility 7 ÔÇô You manage to sneak away behind a tree and watch the mutant (if you have less than Agility 7 something bad or average happens)
2. Charisma 6 ÔÇô It turns out his super mutant is a baseball fan and you just happen to know enough about baseball to befriend it. (if you have less than Charisma 6 something bad or average happens)
3. Bad- your out of ammo and you throw your gun at the mutant and he starts to chase you.
4. Good ÔÇô This super mutant didn't see you at all you see him start digging a hole and bury something. He then leaves and you go investigate the hole and dig up x amount of caps, a signed baseball by someone called Babe Ruth and
5. Average ÔÇô The puppet suggests you murder the mutant with your bear hands but your quite sure you can't so that. The mutant gets closer to you. (Second highest vote happens)
-------------------------------------------------------------------------------------
So the first thing we have to do is vote on our SPECIAL load out.
For those that don't know SPECIAL each letter means an attribute these are :- S= strength, P=perception, E=endurance, C=charisma, I=intelligence, A=agility, L=luck)
I'll start with the SPECIAL in the recruitment thread and see who's interested(Early bird SPECIAL). Then I will open up the game to all and do some equipment and perks votes in the main thread.
Here's how the voting will work for the SPECIAL - You can vote for 3 different attributes that you want our character to have.
Once all votes are tallied
starting with the most popular vote and descending the scores will be assigned as 9,8,8,7,6,6,5 (provisional- will most likely lower) if there is a tie I will choose.
I will give each stat a base 2 (or 3) and each vote will add one to the stat.
So first task:
Vote for the SPECIAL
S:
P:
E:
C:
I:
A:
L :